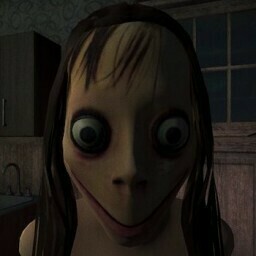 About game «Momo Horror Story»
About the game - Momo Horror Story
Play Momo Horror Story, a free online horror game. In this thrilling adventure, Jack receives a disturbing message on his cell phone from an unknown user named Momo. The message warns him that he is about to be killed. As if that wasn't scary enough, all the lights in his house suddenly go out. Now it's up to you to help Jack survive and unravel the mystery behind these chilling events.
Your first task is to explore the room where Jack is. Look for a flashlight and a weapon to defend yourself. Once you're equipped, use the flashlight to light your way through the dark and eerie house. Be on the lookout for any clues or items that might help you in your quest. If a menacing monster comes your way, don't hesitate to use your weapon to fight back.
Momo Horror Story is accessible on all types of devices, ensuring that you can enjoy the spine-tingling gameplay no matter where you are. Are you ready to face your fears and survive the night?
Games like Momo Horror Story
People who like Momo Horror Story free online game should also try these free games:
Slender: The Eight Pages: Explore a dark forest and collect eight mysterious pages while avoiding the terrifying Slender Man.
Five Nights at Freddy's: Take on the role of a night security guard and survive five nights in a haunted pizza restaurant filled with animatronic creatures.
Outlast: Enter the abandoned Mount Massive Asylum armed only with a camera and your wits as you uncover the terrifying secrets within.
What are the benefits of playing Momo Horror Story?
Momo Horror Story offers an exciting and immersive gaming experience. Embark on an exciting journey as you help Jack unravel the mystery and survive the night. The game's atmospheric setting, intense gameplay, and challenging puzzles will keep you on the edge of your seat. Whether you're a fan of horror games or simply enjoy a good adrenaline rush, Momo Horror Story delivers an unforgettable gaming experience.