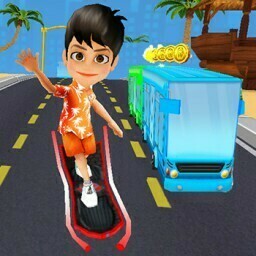 About the game Bus & Subway Runner
Play Bus & Subway Runner online for free. Today, the police are on high alert, keeping a watchful eye on their nemesis, the surfer, who is defying authority by riding buses in the subway. Your mission is to help the boy evade capture. Follow the instructions to navigate through the obstacles and evade the police. For an extra boost, hop on a skateboard to increase your speed. Feeling adventurous? Activate the on-screen rocket button and watch your character take flight. To become the ultimate player, you must master two essential skills - speed and lightning reflexes. Collect coins along the way to unlock new characters in the store. Join the multiplayer mode to compete against players from around the world. Show off your skills by playing this game on any device or gadget.
Games like Bus & Subway Runner
If you like Bus & Subway Runner free online game you should also try these similar games:
1. Subway Surfers: Dash through the subway, avoid obstacles and collect coins in this popular endless runner game.
2. Temple Run: Navigate treacherous paths, overcome challenges, and uncover ancient secrets in this thrilling adventure.
3. Talking Tom Gold Run: Join Talking Tom and his friends as they chase the thief and recover stolen gold in this fun-filled endless runner.
4. Angry Gran Run: Help Grandma escape from the asylum, dodging obstacles and collecting treasures along the way in this hilarious game.
What are the advantages of the game - Bus & Subway Runner
Bus & Subway Runner offers several advantages to the players. First, it provides an adrenaline-pumping experience as you defy authority and outrun the police. The game also tests your speed and quick reflexes, improving your hand-eye coordination. In addition, collecting coins and unlocking new characters provides a sense of accomplishment and progression. Multiplayer mode allows you to compete with players around the world, enhancing your social gaming experience. Whether you play on a phone, tablet, or computer, Bus & Subway Runner guarantees hours of addictive entertainment.