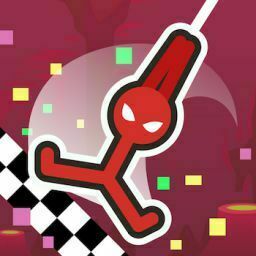 About game «Super Stickman Hook»
About the game Super Stickman Hook
Play Super Stickman Hook, a casual browser-based online game. Today Stickman wants to set a rope swing record and you're here to help him! Take control of the red ball hero and tap to make him rise up and jump onto the rope. With multiple levels and ropes to conquer, your goal is to catch the swing and reach the finish line. But beware of the saws that will try to cut the swing and hinder your progress. Collect coins along the way to enhance your experience. Whether you're on a computer or a mobile device, you can enjoy this game anywhere, anytime.
Games like Super Stickman Hook
People who like Super Stickman Hook free online game should also try these similar games:
Stickman Hook: Swing your way through different levels, using ropes and avoiding obstacles to reach the goal.
Stickman Rope: Perform exciting jumps and swings as you navigate through challenging levels filled with traps and hazards.
Stickman Swing: Test your swinging skills in this addictive game, dodging obstacles and aiming for the highest score.
What are the benefits of playing Super Stickman Hook
Super Stickman Hook offers a number of benefits, just like other games of its genre. It offers hours of addictive gameplay, challenging your reflexes and precision as you navigate through each level. The game also offers a competitive aspect, allowing you to set high scores and compete with friends. What's more, Super Stickman Hook is cross-device optimized, so you can enjoy seamless gameplay whether you're on a desktop computer, laptop, or mobile phone. Immerse yourself in this exciting adventure and experience the thrill of swinging to new heights!