Table Tennis Ultimate Tournament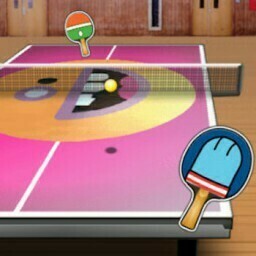 About game «Table Tennis Ultimate Tournament»
About the game Table Tennis Ultimate Tournament
Play Table Tennis Ultimate Tournament online for free. Have you ever seen cartoon heroes competing in a tennis tournament? Probably not! But this game gives you the opportunity to make it happen. Choose your favorite hero and help him win the tournament. The key is to manage the tennis rackets and not to miss your opponent's balls. Participate in the Champion Cup and show everyone that your favorite character is the most wonderful hero in the cartoon universe. Access this exciting game from any device!
Games like Table Tennis Ultimate Tournament
If you like Table Tennis Ultimate Tournament you probably also like these games:
Power Ping Pong: Play exciting table tennis matches with unique characters and challenging gameplay.
Stickman Table Tennis: Test your table tennis skills with Stickman as you compete against various opponents in different environments.
Ping Pong Fury: Experience fast-paced action and intense matches in this table tennis game featuring realistic physics and stunning graphics.
What are the benefits of playing Table Tennis Ultimate Tournament
Table Tennis Ultimate Tournament offers several benefits to players. First, it provides an exciting platform where you can play as your favorite cartoon hero and show off your skills. Second, the game offers challenging gameplay that will test your reflexes and strategic thinking. Finally, Table Tennis Ultimate Tournament is accessible on all devices, so you can enjoy the game anytime and anywhere. So start playing Table Tennis Ultimate Tournament and experience the thrill of being a tennis hero!