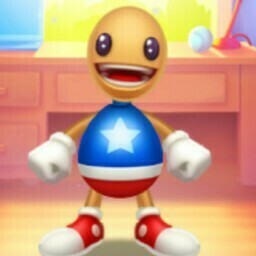 About game «Super Buddy Kick 2»
About the game Super Buddy Kick 2
Experience the thrilling sequel to the popular Kick the Buddy game with Super Buddy Kick 2. Familiar with the first game? Then you're in for a treat! Your goal remains the same: unleash your wrath on the lovable puppet Buddy using a variety of methods. You can start by simply using your hands to hit Buddy, but as you earn points, you'll unlock an array of exciting new weapons. Collect coins and visit the shop to upgrade your equipment and increase your destructive capabilities. Whether you're on a computer, tablet, or smartphone, Super Buddy Kick 2 is easily accessible on any device, ensuring endless hours of addictive gameplay.
Games like Super Buddy Kick 2
If you like Super Buddy Kick 2 you'll probably like these similar games:
1. Ragdoll Achievement - Embark on a quest to inflict maximum pain on a ragdoll through clever experimentation. Unleash destruction and earn achievements in this addictive physics-based game.
2. Whack Your Boss - Take revenge on your annoying boss in this fun game. Explore different environments and discover unique ways to unleash your inner rage.
3. Happy Room - Step into the shoes of a scientist conducting ruthless experiments on human-like test subjects. Customize your deadly arsenal and witness the thrilling results.
What are the advantages of playing Super Buddy Kick 2?
Super Buddy Kick 2 offers numerous advantages for players looking for exciting gameplay. With its accessible controls and addictive mechanics, this game guarantees endless entertainment. The wide variety of weapons and equipment upgrades ensure that every playthrough is unique. Plus, the game's cross-device compatibility allows you to enjoy the action anywhere, anytime. Blow off some steam and enjoy the satisfying destruction of Super Buddy Kick 2. Join the millions of players already addicted to this thrilling game and experience the ultimate catharsis!