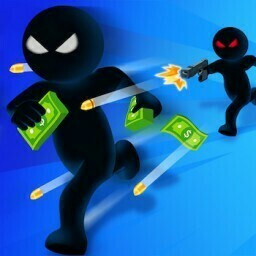 About game «Killer City»
About the game Killer City
Experience the thrilling adventure of Killer City, a free online game that you can play on any device. In this game, you will find yourself in a world that has changed drastically. The once familiar streets have become incredibly dangerous. But your mission is to navigate the city as a stickman and face the challenges that await you.
When you step out of your house and into the streets, you must be careful. Vehicles are a constant threat, and one wrong move can result in a deadly collision. But that's not all - there are real killers lurking around every corner and in every doorway. They will stop at nothing to bring you down.
Your main objective is to collect as much money as possible while navigating this treacherous city. Money is scattered throughout the buildings and streets, waiting to be collected. It's important to use your skills wisely and stay alert to avoid enemies and secure the money.
Armed with a trusty bat, you must be prepared to defend yourself against the ruthless killers that cross your path. Use your weapon skillfully to fend off enemies and protect your life.
Games like Killer City
If you like Killer City you should try other games like it, for example these:
1. Shadow City: Embark on a dark and mysterious journey through the shadowy streets of this thrilling game. Use stealth and combat skills to survive and uncover the secrets that lie within the city.
2. Crime Street: Take on the role of a skilled criminal in this action-packed game. Explore an open-world city, pull off heists, and build your criminal empire while avoiding the police.
3. Mafia Wars: Immerse yourself in the gritty world of organized crime in this popular game. Rise through the Mafia ranks, complete missions and establish your dominance in the city.
What are the advantages of the game - Killer City?
Killer City offers an exhilarating gaming experience with its gripping storyline and challenging gameplay. Its dynamic open-world environment provides endless opportunities for exploration and strategic decision-making as you navigate the dangerous streets of the city.
By playing Killer City, you can hone your reflexes and decision-making skills. The fast-paced nature of the game requires quick thinking and precise actions to survive in this hostile world. In addition, the game provides a thrilling adrenaline rush that keeps players engaged and entertained.
Step into the shoes of a stickman and embark on an intense journey through Killer City. Can you survive the dangers and collect as much money as possible while staying alive? Play now and find out!