Real Dog Racing Simulator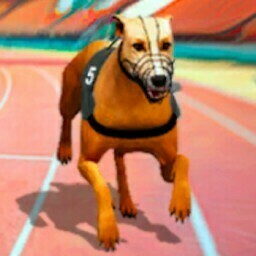 About game «Real Dog Racing Simulator»
About the game Real Dog Racing Simulator
Play Real Dog Racing Simulator online for free on all devices. Tired of the usual racing games? Looking for something different? Look no further! This application brings you an exciting competition between dogs to be the fastest and reach the finish line first. Take control of your own pooch and guide him to victory to claim all the prizes! Choose from a variety of dog breeds such as Rottweiler, Dalmatian, and Golden Retriever and participate in three exciting competitions. Get ready for a 3D race like no other and prove that your dog has what it takes to beat the competition. Join the fun and experience an exhilarating race with your friends!
Games like Real Dog Racing Simulator
People who like Real Dog Racing Simulator free online game should also try these games:
Animal Racing Championship: Take part in an exciting championship where animals of different species compete to be crowned the ultimate racing champion. Choose your favorite animal and race against formidable opponents. Can you guide your pet to victory?
Doggy Dash: Experience the excitement of dog racing in this fast-paced game. Choose your dog, train him to improve his skills, and compete against other dog owners in intense races. Will your dog be the champion?
Speedy Hounds: Join a pack of speedy hounds on a quest to become the fastest dogs in the world. Race through different tracks, overcome obstacles, and use power-ups to gain an edge over your rivals. Can you lead your dog to glory?
What are the advantages of playing Real Dog Racing Simulator?
Real Dog Racing Simulator offers several advantages to the players. Firstly, it provides a unique and exciting racing experience by using dogs as the main competitors. This adds a fresh twist to the traditional racing genre, making the game more engaging and enjoyable. Second, players will be able to choose from a variety of dog breeds, allowing them to personalize their gaming experience. Whether you prefer the strength of a Rottweiler or the agility of a Dalmatian, there is a perfect dog for you. In addition, the game's 3D graphics and immersive gameplay enhance the overall gaming experience, making it more engaging and realistic. Finally, the ability to play with friends adds a social element, allowing players to compete against each other and share their achievements.