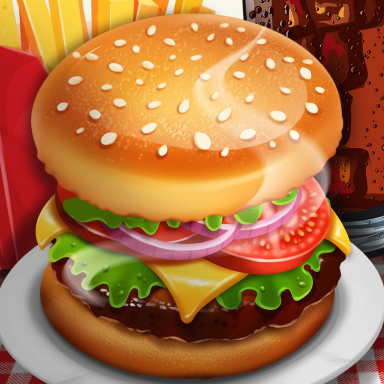 About the game Burger Stack
Play Burger Stack online for free. Immerse yourself in an incredibly dynamic and addictive culinary experience. Your mission is to run your own fast food restaurant and ensure that all burgers are made to the highest standards. Get ready to create the biggest burger in the world! Each ingredient must be perfectly placed to get it as close to the center of the bun as possible. Build your burger with layers of lettuce, omelette, bacon, meat, cheese, and onion. Make sure the burger is stable and ready to serve to your customers. Welcome to your very own restaurant where you can manage everything from any device or gadget.
Games like Burger Stack
People who like Burger Stack free online game should also try these games:
Burger Empire: Build your own burger empire from the ground up and compete against other players to become the ultimate burger tycoon. Serve delicious burgers to hungry customers and unlock new toppings and recipes to expand your menu. Can you handle the pressure of running a successful fast-food chain?
Burger Cookoff: Take part in an exciting cooking competition where you must create mouthwatering burgers against the clock. Master the art of perfect burger assembly, experiment with unique ingredients, and impress the judges with your culinary skills. Only the best burger chef will claim the grand prize!
Burger Bistro: Step into the shoes of a talented burger chef and manage your very own bistro. Take orders from hungry customers, customize their burgers with a variety of toppings, and serve them promptly. Upgrade your restaurant, hire skilled employees, and strive to become the go-to spot for burger lovers!
What are the benefits of playing Burger Stack
Burger Stack offers numerous benefits for players who crave an exciting fast food experience. Not only does it provide an exciting gameplay experience, but it also allows you to unleash your creativity by building the perfect burger. With an easy-to-use interface and cross-device compatibility, you can enjoy running your own restaurant anytime, anywhere. Whether you're a fan of culinary challenges or just looking for a fun and addictive game to pass the time, Burger Stack guarantees hours of entertainment and satisfaction.