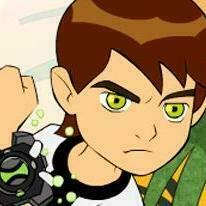 About game «Ben 10 Savage Persuit»
About the game Ben 10 Savage Pursuit
Play Ben 10 Savage Pursuit, a free online game that is part of the popular Ben 10 series. In this special installment, you have the ability to transform your main character, Ben, into other creatures using alien powers. The infamous Dr. Animo has a sinister plan involving the Transmodulator, and it's up to you to stop him. Take on and defeat evil creatures while collecting items scattered across the map. Show off your skills and aim for the highest score in this fantastic game. Accessible on any type of gadget or device, you can enjoy playing this exciting part of the Ben 10 series.
Games like Ben 10 Savage Pursuit
If you like Ben 10 Savage Pursuit you probably also like these games:
Ben 10 Ultimate Alien: Cosmic Destruction - Help Ben save the Earth by fighting against intergalactic threats.
Ben 10 Alien Force: Vilgax Attacks - Join Ben and his team as they face off against Vilgax and his army of robots.
Ben 10 Omniverse: The Video Game - Play as Ben and his new partner, Rook, to defeat a mysterious villain.
What are the benefits of the game - Ben 10 Savage Pursuit
Ben 10 Savage Pursuit offers several benefits to players. You can enjoy immersive gameplay where you can transform into different alien creatures, adding an extra layer of excitement and strategy to the game. In addition, the game allows you to explore different levels and collect scattered items, providing a challenging and rewarding experience. Whether you are a fan of the Ben 10 series or enjoy action-packed browser-based games, Ben 10 Savage Pursuit guarantees hours of fun and adventure.