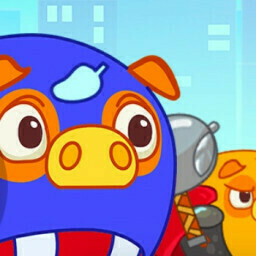 About game «Mango Piggy Piggy Hero»
About the game Mango Piggy Piggy Hero
\n
Play Mango Piggy Piggy Hero online for free. In this exciting casual browser-based game, some of your fellow angry birds have been captured. Your mission is to free them without taking too many shots. Each successful rescue unlocks a new location for you to explore. Immerse yourself in the exciting world of Mango Piggy Piggy Hero and show off your skills. This addictive game is part of our Friv 2 collection and can be enjoyed on various devices, absolutely free.
\n\n
Games like Mango Piggy Piggy Hero
\n
Game description:
\n
\n
Angry Birds: Join the iconic flock of birds and launch them at the mischievous pigs in this wildly popular game.
\n
Bad Piggies: Switch sides and help the pigs build the ultimate contraptions to steal eggs from the birds in this creative puzzle game.
\n
Cut the Rope: Feed the adorable Om Nom by cutting the ropes at the right time and collecting all the stars in this physics-based puzzle game.
\n
\n\n
What are the benefits of playing Mango Piggy Piggy Hero?
\n
Mango Piggy Piggy Hero offers numerous benefits for players who enjoy casual browser-based games. With its engaging gameplay, players can practice their problem-solving skills while having fun. The game offers a variety of challenging levels and locations to keep players entertained. In addition, Mango Piggy Piggy Hero can be played on a variety of gadgets and devices, making it accessible to a wide range of players. Join the adventure of Mango Piggy Piggy Hero and experience the excitement today!