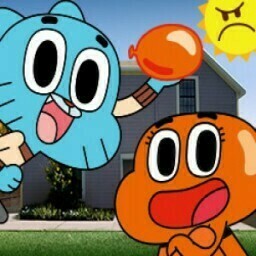 About game «Gumball Water Sons»
About the game Gumball Water Sons
Play Gumball Water Sons online for free, a casual browser-based game that you can access from any type of device. Take a moment to relax and enjoy the wonderful Gumball Water Sons game. With the sun shining today, it's the perfect time to go outside and have some fun with water balloons. The goal is simple - grab a water-filled balloon and aim to throw it at your opponent. Choose to play as either Gumball or Darwin and make sure to destroy various objects along the way. As the temperature rises, it's important to stay cool and refreshed. The best part is that you don't need to install anything, just click the button and start playing right here on this page. Get ready to have a blast and enjoy!
Games like Gumball Water Sons
If you like Gumball Water Sons free online game, we suggest you try the following free online games with similar themes:
Gumball Splash Master - Join Gumball and his friends in a water balloon frenzy to hit targets and earn the highest score. Unleash your water-throwing skills in this exciting and competitive game.
Water Balloon Warriors - Compete against friends or AI opponents in this action-packed water balloon battle. Choose your character, collect power-ups, and strategize to be the last one standing.
Splash Attack - Take on the role of a mischievous kid armed with an arsenal of water balloons. Navigate an interactive city, splashing unsuspecting targets and avoiding obstacles.
What are the benefits of the game - Gumball Water Sons
Gumball Water Sons offers several benefits to players looking for a fun and refreshing gaming experience. By participating in this game, you can improve your hand-eye coordination, strategic thinking, and precision aiming skills. In addition, engaging in friendly competition with friends or challenging AI opponents can improve your problem-solving and decision-making skills. The game offers a unique opportunity to relieve stress and relax as you immerse yourself in its colorful and entertaining world. Enjoy the exciting gameplay and let Gumball Water Sons bring a splash of joy to your day!