From Nerd To Fab: Prom Edition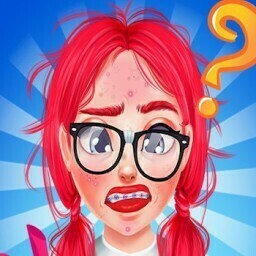 About game «From Nerd To Fab: Prom Edition»
About the game From Nerd To Fab: Prom Edition
Play From Nerd To Fab: Prom Edition, a browser-based online game available for free on all devices. Take on the role of Anna, a high school senior. Anna has been a geek for as long as she can remember, but with the From Nerd To Fab: Prom Edition ball approaching, she needs your help to transform her appearance and become the belle of the school.
Go on a journey to enhance Anna's beauty. Begin by clearing her face of red spots and acne, using your skills to give her a flawless complexion. Next, unleash your creativity and makeup skills to create a stunning look that will turn heads. Don't forget the hair - choose the perfect style to complement Anna's new image.
The transformation doesn't stop there. It's time to dress our character to impress. Explore a variety of suits provided and let your imagination run wild as you mix and match to find the perfect outfit for Anna. Pay special attention to her shoes and jewelry, as every detail counts when it comes to creating the best look.
From Nerd To Fab: Prom Edition offers an enjoyable gaming experience on multiple devices. Whether you're playing on your computer, tablet, or mobile device, you'll be able to immerse yourself in Anna's world and have fun creating her stunning prom look.
Games like From Nerd To Fab: Prom Edition
If you like From Nerd To Fab: Prom Edition likes these similar games:
Beauty Makeover: Dress-Up and Glam - Immerse yourself in a world of beauty and fashion as you give virtual characters stunning makeovers and style their outfits. Unleash your inner fashionista!
Glamour Diva: Red Carpet Fashion - Live the glamorous life of a diva as you make your way down the red carpet, choosing the perfect clothes and accessories to make a fashion statement.
Princess Makeover Studio - Use your makeup skills to transform ordinary princesses into stunning beauties. Choose from an array of royal outfits and create magical looks fit for a princess.
What are the benefits of playing From Nerd To Fab: Prom Edition?
From Nerd To Fab: Prom Edition offers a unique and engaging gameplay experience. With its focus on transforming a geeky character into a stunning prom queen, the game allows players to unleash their creativity and fashion sense. By carefully selecting outfits, hairstyles, and makeup, players can witness Anna's visual transformation in real time.
In addition to the cosmetic aspects, the game promotes attention to detail and decision-making skills. Players must consider various factors such as shoes and accessories, teaching them the importance of accessorizing and completing an overall look.
With its availability on various devices, From Nerd To Fab: Prom Edition ensures that players can enjoy the game anywhere, anytime. So, dive into the world of Anna, have fun, and create the best look for our character!