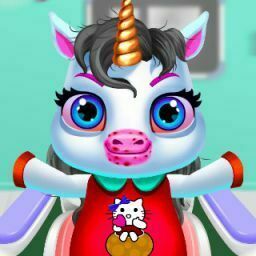 About the game - Cutie Unicorn Care
Play Cutie Unicorn Care, a free online game where our little unicorn needs your help. Something has gone wrong and he's become lazy and immobile, which means he's sick. It's up to you to take care of him and make sure he gets the right treatment. Take him to the vet for an examination and use the tools provided to take his temperature, blood pressure, and heart rate. Administer the necessary medications and don't forget to show him some love by playing with him and giving him a wash. As you help this cute little creature, you'll see him become happy and cheerful again. Whether you're using a computer, laptop or mobile device, you can access this delightful game. Get ready to have a lot of fun!
Games like Cutie Unicorn Care
If you like Cutie Unicorn Care free online game you should also try these similar games:
1. Magical Pet Salon: Take care of adorable magical pets, grooming them and making them look fabulous.
2. Pony Princess Spa Salon: Pamper and groom beautiful pony princesses in your very own spa salon.
3. Puppy Doctor: Play as a veterinarian caring for cute puppies, diagnosing their ailments and nursing them back to health.
What are the benefits of playing Cutie Unicorn Care?
Cutie Unicorn Care offers several benefits to its players. This game allows you to develop your nursing skills by taking care of a virtual creature. You can learn basic medical procedures, such as taking temperature and heart rhythm, while understanding the importance of giving the unicorn medicine. Moreover, playing this game can give you a sense of satisfaction and joy as you witness the positive transformation of the unicorn from sick and immobile to happy and cheerful. If you like games that involve taking care of animals or virtual pets, Cutie Unicorn Care is the perfect choice for you!