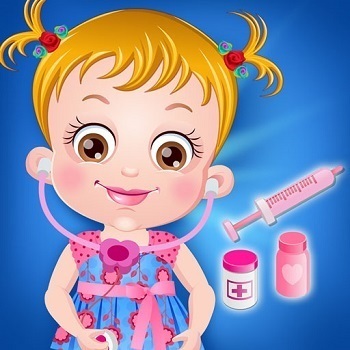 About game «Baby Hazel Doctor Play»
About the game - Baby Hazel Doctor Play
Join Baby Hazel on her exciting adventure as a doctor in the free online application Baby Hazel Doctor Play. In this game, Baby Hazel and her mother have bought a doctor table game during their shopping trip. Baby Hazel loves to play and have fun with such games, and she can't wait to start playing with it. As a caring player, it's your job to help Baby Hazel provide medical care to her cute toys and make them healthy!
Baby Hazel is a playful and adorable character who needs attention and care. She doesn't like to be left alone, so it's important to meet her needs and support her. As you play, you will have the opportunity to use your medical skills and turn Baby Hazel into a professional doctor. Treat her toys with love and care to keep them happy and healthy. With vibrant graphics and addictive gameplay, Baby Hazel Doctor Play is suitable for all devices. So grab your device and have fun playing this fascinating game with your friends!
Games like Baby Hazel Doctor Play
If you like Baby Hazel Doctor Play you should also try these similar games:
Doc McStuffins: Baby Nursery - Help Doc McStuffins take care of the adorable toys in their baby nursery. Treat their illnesses, give them checkups, and make them happy!
Doc McStuffins is a doctor!
Peppa Pig: Doctor's Visit - Join Peppa Pig on her doctor's visit adventure. Explore the clinic, check patients' symptoms and become a skilled doctor just like Peppa!
Dora the Explorer: Animal Hospital - Join Dora the Explorer on a mission to save animals. Treat injured animals, perform surgeries, and nurse them back to health!
What are the benefits of playing Baby Hazel Doctor game
Baby Hazel Doctor Play offers many benefits to players. First, it allows children to explore the world of medicine and develop their empathy and caring skills. By caring for Baby Hazel's toys, they learn the importance of compassion and nurturing. Second, the game improves hand-eye coordination and problem-solving skills as players perform various medical tasks. Finally, Baby Hazel Doctor Play provides a safe and fun online gaming experience for children. With its addictive gameplay, stunning graphics, and availability on multiple devices, Baby Hazel Doctor Play guarantees endless hours of fun and learning!