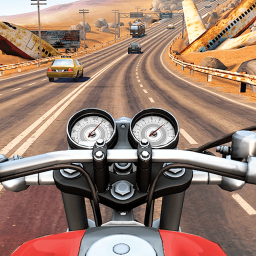 About game «Moto Road Rash 3D»
About the game Moto Road Rash 3D
Experience the exhilarating world of Moto Road Rash 3D, an online racing game that will satisfy all your motocross cravings. Step into the shoes of a motorcycle enthusiast and get ready for the thrill of high-speed racing. Start by selecting your ideal vehicle from the extensive options available in the garage. Customize it to your personal preferences to ensure it reflects your unique style on the track.
Once you're geared up, it's time to hit the road and show off your exceptional speed skills. Racing in Moto Road Rash 3D feels like a dream come true. Let the adrenaline pump through your veins as you navigate challenging terrain and overcome heart-stopping obstacles. Climb aboard the perfect vehicle and embark on this breathtaking journey of excitement and adventure.
This captivating game promises endless hours of entertainment and pure joy. Whether you're a seasoned racer or a beginner, Moto Road Rash 3D guarantees an immersive gaming experience that will keep you on the edge of your seat. So rev up your engines, hone your racing skills, and prepare to pave your way to becoming a champion in the thrilling world of motocross. Get ready to unleash the true power of speed!
Games like Moto Road Rash 3D
If you enjoy the heart-pounding action and intense gameplay of Moto Road Rash 3D, here are some similar games that will undoubtedly pique your interest:
MX Nitro: Take motocross racing to the extreme with MX Nitro. Push your limits as you perform daring stunts, conquer challenging tracks and unlock a wide range of upgrades.
Mad Skills Motocross: Embark on a challenging motocross journey in Mad Skills Motocross. Race against skilled opponents, master the art of balance, and prove your dominance in this addictive racing game.
Trials Fusion: Experience the perfect blend of precision and speed in Trials Fusion. Navigate through breathtaking obstacles, test your limits, and show off your skills as you strive for perfection.
What are the benefits of playing Moto Road Rash 3D?
Moto Road Rash 3D offers a number of advantages that make it an outstanding choice among racing enthusiasts. With its realistic graphics and immersive gameplay, this game offers a truly captivating experience that will transport you to the world of motocross racing.
A major advantage is the extensive customization options available for your vehicles. From choosing the perfect bike to modifying it to your liking, Moto Road Rash 3D gives you the freedom to create a personalized racing experience.
Plus, the wide variety of tracks and challenging terrain ensure that every race is uniquely thrilling. The adrenaline rush you'll feel as you navigate obstacles and perform breathtaking stunts is unparalleled.
In addition, Moto Road Rash 3D is accessible on a variety of gadgets and devices, allowing you to enjoy the game from the convenience of your preferred platform. Whether you're on your computer, smartphone, or tablet, this thrilling racing game is just a click away.
So dive into the world of Moto Road Rash 3D and let the racing begin. Prepare for the ultimate motocross adventure that will test your skills, ignite your passion, and propel you to the glorious title of champion!