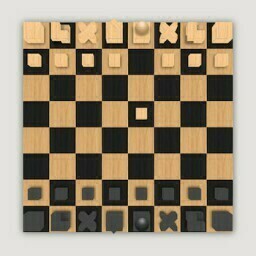 About game «3D Hartwig chess set»
About the game - 3D Hartwig Chess Set
Play 3D Hartwig Chess Set game. Let's dive into a beautiful chess game that resembles the real art. Access the game from any device or gadget. This is an incredible opportunity to enjoy the famous Josef Hartwig chess. Why are they so special? The German architect Joseph Hartwig created his unique chess set using beautiful figures and shapes. To understand why the set is so special, you have to try it for yourself. Each piece represents two forms - its geometric shape and the way it moves. Check it out for yourself and you won't regret it. Have fun!
Games like 3D Hartwig Chess Set
If you like 3D Hartwig chess set you should also try these similar games:
Classic Chess: A traditional chess game with a simple interface and challenging gameplay.
Epic Chess Battle: Engage in epic battles with stunning graphics and strategic gameplay.
Mindful Chess Challenge: A chess game that focuses on improving mindfulness and concentration skills.
What are the benefits of playing 3D Hartwig Chess
Playing 3D Hartwig Chess Set or similar chess games can have numerous benefits. It helps to improve logical thinking, strategic planning and problem solving skills. Chess also improves memory and concentration, making it a great exercise for the brain. In addition, playing chess can be a stress-relieving activity and a way to socialize with other players. Experience the unique charm of 3D Hartwig Chess Set and unlock these benefits while enjoying captivating gameplay.