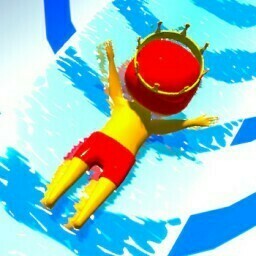 About game «Aquapark»
About the game Aquapark
Play Aquapark online for free. Do you miss your summer? Let's refresh your memories of this wonderful season. Take part in the water race, slide down the waves and beat all the opponents. Try to be as fast as possible. Your task is to be the first of all participants to reach the finish line. There is a trick to be faster. You can take off from the ground and fly over the water for a while. This way you can cut a part of the course. But be careful, this is a temporary function and you can't fly all the time. Avoid the obstacles along the way. Use any gadget or device to play the sunniest game on our site.
Games like Aquapark
people who like Aquapark free online game should also try these games:
Water Rush: Race down the water slides, avoid obstacles and be the first to cross the finish line.
Slide Splash: Challenge your friends in this exciting water race and slide your way to victory.
Flip Flop Racing: Compete against other players in an exciting flip flop race. Slide, flip, and race to be the champion.
Aqua Speed: Dive into the water and show off your swimming skills in this fast-paced racing game.
Wave Rider: Ride the waves, perform stunts and race against other surfers in this adrenaline-pumping game.
What are the advantages of the game - Aquapark
Aquapark offers an exciting gameplay experience that allows players to relive the joys of summer. By participating in water races and competing against opponents, players can improve their speed and reflexes. The temporary flying feature adds a unique twist to the gameplay and provides opportunities for strategic shortcuts. In addition, Aquapark can be played on any gadget or device, making it easily accessible to everyone.