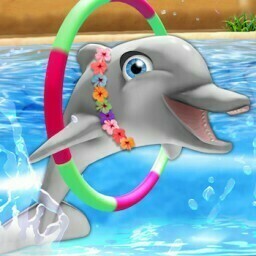 About game «My Dolphin Show»
About the game My Dolphin Show
Play My Dolphin Show online for free. Immerse yourself in the fascinating world of aquatic life and become the star of the show. Put on a mesmerizing performance and show off your extraordinary skills to an eager audience. Embark on an exciting journey through different aquatic worlds where you can perform a variety of tricks. Jump gracefully through hoops, splash the crowd and show off your ball skills. Interact with your dolphin and build a strong bond that will make your show truly memorable. Whether you're a fan of simulators or animal games, My Dolphin Show is the perfect choice for you. Accessible on multiple devices, get ready for endless fun. Welcome to the most exciting aquatic adventure ever!
Games like My Dolphin Show
Gamers who like My Dolphin Show free online game should also try these free games:
Flip Diving: Take the plunge and experience the adrenaline rush of diving from breathtaking heights. Perform breathtaking flips and make a splash in this exhilarating diving game.
Fishdom: Dive into the vibrant underwater world and build the aquarium of your dreams. Solve puzzles to earn coins and collect a variety of colorful fish and decorations.
WildCraft: Embark on an exciting adventure in the animal kingdom. Choose your favorite animal, explore the wilderness, and complete quests to unlock new skills and territories.
What are the benefits of playing My Dolphin Show
My Dolphin Show offers numerous benefits for players looking for exciting entertainment. Immerse yourself in a realistic and immersive aquatic environment where you can improve your cognitive, coordination and multitasking skills. You'll also hone your problem-solving skills as you navigate through different worlds and master various tricks. In addition, the game provides a sense of accomplishment and satisfaction as you wow virtual audiences with your stunning performances. Whether you're an animal lover, a simulator enthusiast, or just looking for an engaging pastime, My Dolphin Show guarantees endless fun and enjoyment. Experience the thrill today!