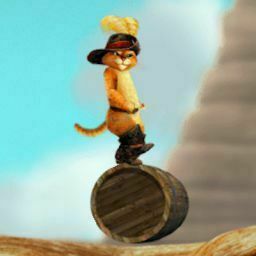 About the game - Barrel Run
Barrel Run is an exciting free online running game that can be played on all kinds of devices and gadgets. In this game you will meet Puss in Boots, the famous European character who saved the world from an evil ogre. Instead of following the traditional storyline, Barrel Run takes a running approach.
The goal of the game is simple - run as fast as you can! As Puss in Boots, your mission is to collect as many coins as possible along the way. But watch out for the barrels that are constantly rolling right under the cat's legs. To succeed, you must navigate through the obstacles without losing your momentum.
Discover the thrill and excitement of endless running in Barrel Run. Challenge yourself to run faster, collect more coins, and get the highest score. Keep an eye out for power-ups and bonuses to help you along the way. Get ready for a fast-paced adventure and put your running skills to the test in this action-packed game!
Games like Barrel Run
If you like the endless running genre and the excitement it brings, you might also like these games:
Speed Dash: A high-speed running game where you navigate through an endless maze of obstacles. How far can you dash?
Coins Galore: Join a mischievous cat on a coin collecting adventure. Explore different worlds and unlock new characters. How many coins can you collect?
Adventure Runner: Embark on an epic journey through mystical lands and treacherous terrain. Collect power-ups and uncover hidden treasures along the way.
What are the benefits of playing Barrel Run?
Barrel Run offers several benefits to players who enjoy casual, browser-based online games. First, it provides an exciting and fast-paced experience that keeps players engaged and entertained. Its simple yet challenging gameplay mechanics make it accessible to players of all skill levels.
In addition, Barrel Run offers players the opportunity to improve their reflexes and hand-eye coordination as they navigate through the obstacles and collect coins. The game also encourages strategic thinking as players must decide when to take risks and when to play it safe.
Finally, Barrel Run allows players to immerse themselves in the beloved world of Puss in Boots. Fans of the character will enjoy exploring a unique running adventure featuring their favorite feline hero.