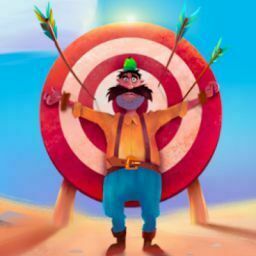 About the game Apple Shooter Remastered
Apple Shooter Remastered is an updated version of the popular action-packed game, where the world's most dangerous tricks await you once again. Test your shooting skills in this exciting online game. If you are familiar with the story of William Tell, you already know the objective of the game. Aim carefully with your bow and try to shoot the apple on the head of your computer-generated friend. Be careful, because a single mistake can cost you your friend's life. Play this game on different devices and gadgets to challenge yourself. Improve your archery skills and prove to everyone that you are the new Tell. Show your buddy with the apple on his head why you are the ultimate archer.
Games like Apple Shooter Remastered
People who like Apple Shooter Remastered free online game should also try these free games:
Stickman Archery: Bow and Arrow - Embark on a Stickman archery adventure and test your shooting skills in several challenging levels.
Bowmasters - Join the ultimate archery battle and compete against players from around the world. Choose your character and master the art of archery.
Archery King - Experience the thrill of archery in this realistic game. Customize your bow and compete in various tournaments to become the Archery King.
What are the benefits of playing Apple Shooter Remastered?
Apple Shooter Remastered offers several benefits to players who like action and archery games. By playing this game, you can improve your hand-eye coordination, concentration and precision skills. It provides a challenging and exciting gameplay experience that keeps players engaged. In addition, Apple Shooter Remastered allows you to show off your archery skills and compete against your friends or other players around the world. So grab your bow, take aim, and show off your shooting skills in Apple Shooter Remastered!