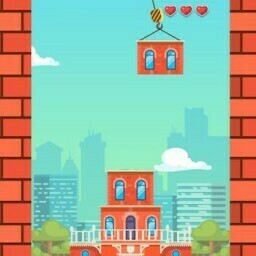 About game «Tower Building»
About Tower Building
Play Tower Building game and let your childhood dreams of becoming an architect come true. As the name suggests, the game is all about building towers. Prepare to become addicted to this incredibly simple yet addictive game. Your goal is to stack floors on top of each other to build the tallest tower possible. The challenge is to keep the tower from toppling over. Will you be the famous architect who builds the tallest skyscraper in the world? Be careful to place each block exactly where it belongs. The game can be enjoyed on any gadget or device of your choice.
Games like Tower Building
If you like Tower Building free online game you should also try these similar games:
Block Stack: Stack blocks to create impressive structures. Balance is key!
Build It Up: Embrace your inner architect and construct towering masterpieces. Don't let them fall down!
Stack Tower: Test your stacking skills by building a stable tower without any mishaps.
What are the benefits of the Tower Building game
Tower Building and games like it offer several benefits. First, they improve your spatial awareness and hand-eye coordination as you carefully position each block. Second, these games encourage creativity and allow you to express your architectural vision by creating unique towers. Finally, tower building games offer a relaxing and engaging experience, providing a perfect way to unwind and challenge yourself. Whether you're a budding architect or just looking for a fun and addictive game, Tower Building is sure to captivate you.