Impossible Moto Bike Track Stunts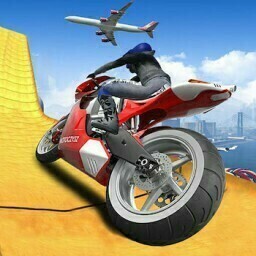 About game «Impossible Moto Bike Track Stunts»
About the game - Impossible Moto Bike Track Stunts
Play Impossible Moto Bike Track Stunts, an exciting free online racing game that aims to teach you how to tune a dirt bike. With numerous challenging tracks to conquer, the most fascinating one will take you above the clouds, offering a breathtaking view of the earth from above. Prepare to face various obstacles and opponents who will stop at nothing to knock you off your bike. Keep your balance, avoid falling to the ground, and keep an eye on the time as your ultimate goal is to be the first to cross the finish line. Experience the thrill of performing stunts and outsmarting your opponents. Whether you prefer to play on your computer, smartphone or tablet, the Impossible Moto Bike Track Stunts game guarantees endless fun.
Games like Impossible Moto Bike Track Stunts
If you like playing Impossible Moto Bike Track Stunts you should also try these similar games:
Extreme Bike Racing: Experience high-speed bike racing through challenging tracks, performing thrilling stunts. Will you be the champion?
Moto X3M: Conquer dangerous obstacles and perform breathtaking stunts in this adrenaline-pumping dirt bike racing game.
Supreme Stunt Biker: Test your skills as an expert stunt biker. Perform daring stunts and navigate through treacherous terrain to emerge victorious.
What are the advantages of the game - Impossible Moto Bike Track Stunts
Impossible Moto Bike Track Stunts offers several benefits for players who are looking for an exciting racing experience. By playing this game, you can hone your dirt bike riding skills, improve your ability to maintain balance in challenging situations, and improve your reflexes and reaction times. In addition, the game provides an immersive escape into a world of action-packed stunts and fierce competition, allowing you to forget about the daily grind and experience the exhilaration of racing above the clouds. Whether you are a casual gamer or a dedicated racing enthusiast, Impossible Moto Bike Track Stunts guarantees hours of entertainment and excitement.